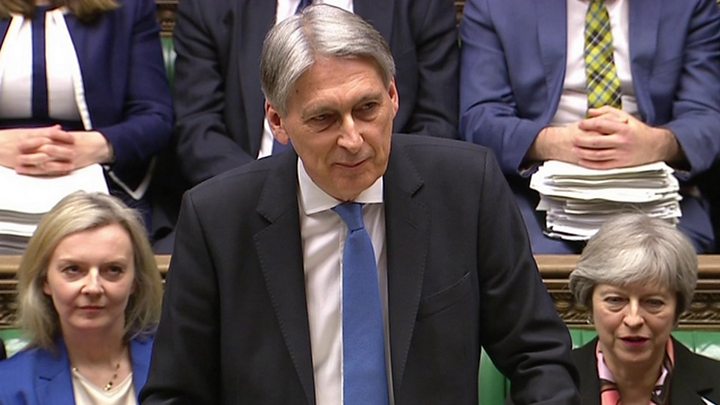 Chancellor Philip Hammond predicted a bright future for the UK in his first Spring Statement – but why was he in such an upbeat and jovial mood?
Well, Mr Hammond predicted a rise in growth in the short term, and a fall in inflation, borrowing and debt.
He told MPs: "We have made solid progress towards building an economy that works for everyone."
What did he say about borrowing?
Mr Hammond said borrowing was due to fall in each of the next few years, with the 2017 figure of 2.2% of GDP predicted to drop to 0.9% in 2022.
As a result, debt as a percentage of GDP is predicted to go down every year up to 2022 – the first sustained drop in 17 years.
"That is a turning point in this nation's recovery from the financial crisis a decade ago," said Mr Hammond. "There is light at the end of the tunnel."
The OBR says inflation will fall to 2% by the end of the year – in line with the Bank of England's target.
What's the story on economic growth?
Mr Hammond said the economy had grown every year since 2010, adding that the Office for Budget Responsibility had confirmed growth of 1.7% was achieved in 2017, higher than its 1.5% forecast in last autumn's Budget.
The OBR also revised its growth forecast for 2018 up to 1.5% from 1.4%
One reason in the short term for the rise in economic growth is productivity, with the last two quarters the strongest since the 2008 recession.
Output per working hour rose by 0.8% in the three months to December following a 0.9% rise in the previous quarter, according to Office for National Statistics.
The OBR's growth forecasts for 2019 and 2020 remained unchanged, while those for 2021 and 2022 were reduced slightly.
Will the chancellor now spend more?
It is a possibility.
Despite revealing the smallest budget deficit since 2002, Mr Hammond had already said the national debt was too high and that it would be wrong to put "every penny" into more public spending.
However, he said that if public finances continued to reflect current improvements by the autumn, then he "would have capacity to enable further increases in public spending and investment in the years ahead".
Ian Stewart, chief economist at Deloitte, said: "These forecasts put the UK in a better position to face the moment of truth on Brexit.
"The decision phase of the Brexit talks will shortly be upon us. Stronger public finances give Mr Hammond more firepower to support the economy if the Brexit talks don't go according to plan."
However, he added: "We should not get carried away. These forecasts are likely to be no less fallible than earlier ones and, despite an improving trend in public borrowing, the burden of debt in the UK is still at its highest in over 50 years."