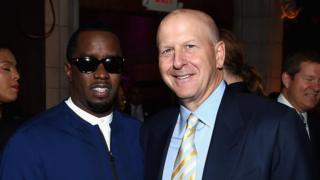 Senior figures at investment banks know that regularly working late into the night can go with the territory.
But David Solomon, the man tipped to be the next chief executive of Goldman Sachs, does not only spend his evenings poring over the numbers.
As the 56-year-old's Instagram account shows, he also has a second life as a DJ playing electronic dance music under the name D-Sol.
The banker is widely expected to take over the top job from Lloyd Blankfein.
Analysts say Mr Solomon's accession became almost certain after a rival for the job, Harvey Schwarz, retired suddenly on Monday.
It is not clear when Mr Blankfein, 63, will step down from Goldman Sachs – one of the world's most influential banks.
Bahamas beats
Mr Solomon, who has been photographed with musicians such as Sean 'Diddy' Combs, is known for his love of parties.
But his social media account suggests he is happier behind the decks than on the dance floor- with shots of him performing at events in Los Angeles, Miami and the Bahamas.
And there is also a link to his remix of Fleetwood Mac hit Don't Stop.
Reports suggest he is also an avid wine collector, and takes vintages from his own cellar to restaurants rather than relying on what is on offer.
It is not clear if Mr Solomon – who earns just shy of $2m (£1.4m) a year before bonuses – is paid for his musical endeavours.
But past form suggests that if, in life after Goldman, the music career doesn't work out then there will be plenty of options in politics.
Mr Blankfein's predecessor Henry Paulson became Treasury secretary under George W Bush. The current holder of that post, Steven Mnuchin is also Goldman alumni, as is President Trump's outgoing economic adviser Gary Cohn.