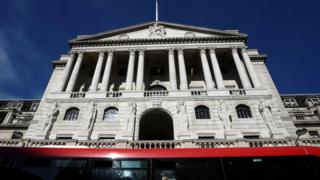 The Bank of England has raised its growth and inflation forecasts for 2017 and kept interest rates on hold at 0.25%.
It increased its prediction for economic growth from 0.8% to 1.4% for next year, but cut the 2018 forecast from 1.8% to 1.5%.
The higher growth forecast for 2017 prompted the Bank to play down the prospect of a further rate cut.
However, it expected inflation to nearly triple to 2.7% next year.
"In the three months since [August], indicators of activity and business sentiment have recovered from their lows immediately following the referendum and the preliminary estimate of GDP growth in the third quarter was above expectations," the Bank said. "The near-term outlook for activity is stronger than expected three months ago."
In a press conference explaining the decision, governor Mark Carney also pointed out that household spending had held up better than expected since the vote to leave the EU.
"For households, the signs of an economic slowdown are notable by their absence," he said.
Weaker sterling
Paul Hollingsworth of Capital Economics said the stronger economic outlook for 2017 "means that another rate cut now looks unlikely. Indeed, we think that the economy will continue to surprise."
Philip Shaw, an economist with Investec, said the Bank's change on interest rates was an attempt to dampen concerns about rising inflation, rather than signal that a rate rise was on the way.
The Bank said the impact of weaker sterling's on inflation "will prove temporary, and attempting to offset it fully with tighter monetary policy would be excessively costly".
It does not expect inflation to return to the 2% target until 2020.
This week the National Institute for Economic and Social Research said it expected inflation to quadruple to about 4% in the second half of next year. The think tank also warned that prices would "accelerate rapidly" during 2017 as the fall in sterling is passed on to consumers.
Sterling was trading 1.5% higher at $1.2488 after the Bank's inflation report was released, while yields on UK government bonds also rose.
The Bank also warned that Britain's access to EU markets could be "materially reduced" following Brexit, which would hit economic growth over a "protracted period".